Chronicles of Crime 1400
March 10, 2021
Game Designers: David Cicurcel
Scenarios: Grzegorz A. Novak & Pierre Buty
Publisher: Lucky Duck Games
Young nobleman from the Paris neighborhood, you have a strange gift: images from the future come to you in your sleep. Not good news since it usually means that a crime is going to be committed. With the help of Perceval, your loyal dog, you will need to solve these crimes and find the real culprits before the often overwhelmed law enforcement.
Chronicles of Crime 1400 includes a tutorial to fully understand the game mechanics then four different scenarios. Missing Pages will put you on the trail of a murdered young copyist; The last bath will ask you to find out why the corpse of the public baths' owner is swimming in his basin; Divine Will will ask you to find a young girl who has been abducted while on her way to Paris; and A Glow in the Dark takes you into the demonic world of Paris as a prisoner is found dead in his cell next to satanic symbols.
An easy scenario, two medium and a difficult one for games lasting 1 hour, 1 hour and a half (if you play solo).
Chronicles of Crime largely works with an app that you will download to your phone or tablet. The good news is that once you've downloaded the scenario, you won't need any connection whatsoever. If you won't need to connect Wifi or 4G, take care to charge your device well. The application works by taking pictures of QR codes found on each game element (location cards, characters and objects). You will therefore have to use the camera of your favorite tool very regularly.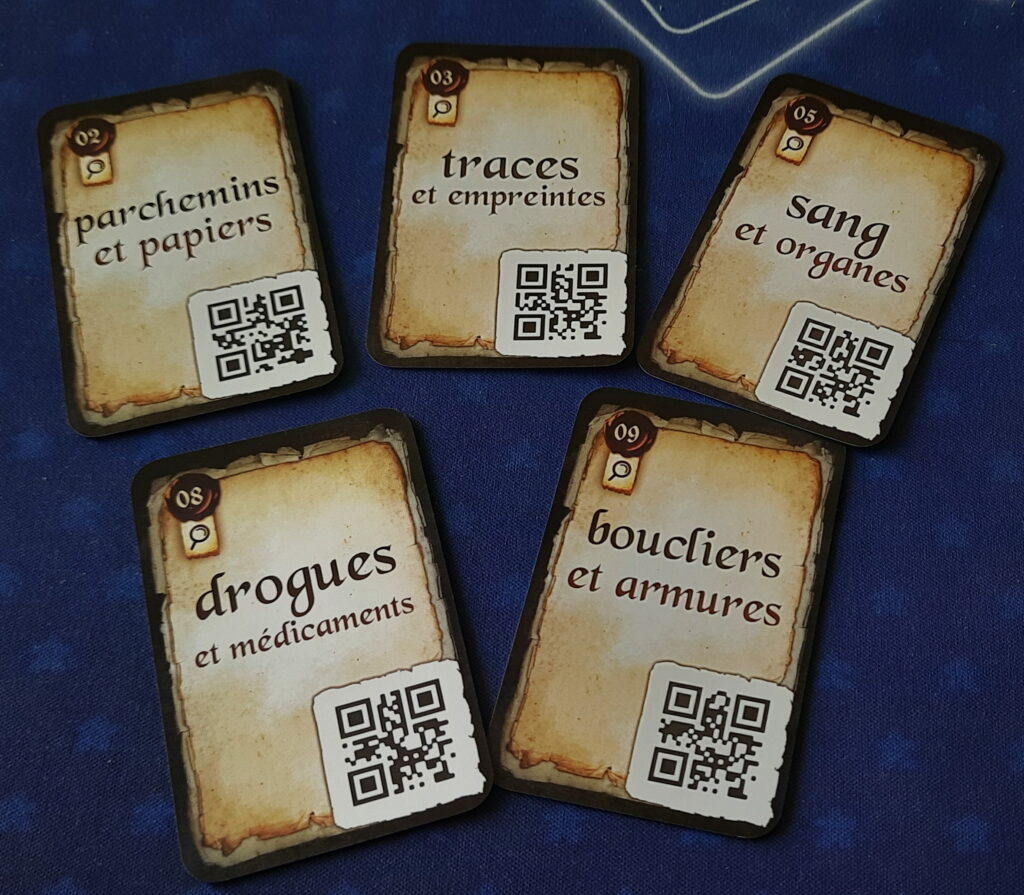 Each scenario works roughly on an identical frame:
Inspecting of the premises. This is THE bright spot that sets Chronicles of Crime apart from all other investigation games. You will have the option (if you have a virtual reality kit or the small glasses sold separately) to investigate as if you were at the crime scene. Turning 360 °, looking up or down will allow you to make a list of objects that are all potential leads to solve the mystery. The phone's gyroscope must therefore be functional. This part is very well done. The principle of virtual reality and the possibility of being able to turn around brings real immersion for a "simple" illustration displayed at 360 °. If you can't use VR, no problem, the scene can be shown on the screen but you'll probably need a large one.
Inspecting objets. Once the list of objects is established, you will need to examine them which will allow you to move forward in the story. Perceval, your canine friend will be a truly invaluable help in advancing certain plot elements. An original mechanic to Chronicles of Crime 1400 which is really excellent.
Talking to characters: Then, you will have plenty of time to interview the characters you meet in different locations by asking them questions about the items you have either obtained or that you know exist.
Finally, you can return to the Sponsor's home to explain what really happened.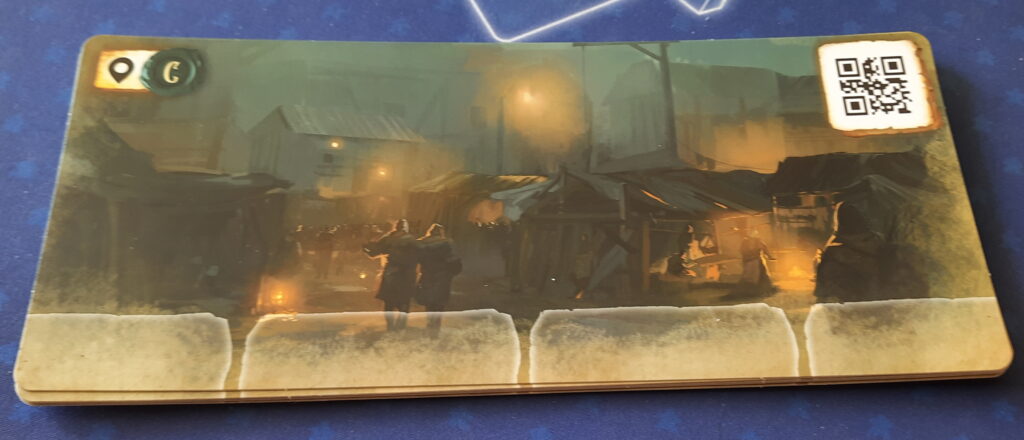 While the Chronicles of Crime first game had some helpful characters from the criminal police who each had their own area of expertise, 1400 lets you chat with three members of your family: a clergyman, a merchant, and a spy. I found that their presence was certainly necessary at times, but that you should consider them not as clue givers but really as sources of information to help you move forward.
Moreover, Chronicles of Crime isn't an escape game so it's up to you to figure out how to solve the mysteries on your own. No clue given.
The four mysteries are not unsolvable. Time is sometimes limited but will not be a condition preventing a perfect score. In fact, if you can solve the puzzles within the allotted time, you will get a 120/100. Otherwise, you will still be able to get 5 stars and a 100/100 should not be too difficult to obtain if you are several clever players. So understand, that they will be easier than some Sherlock Holmes Consulting Detective cases (which might be a good thing as some SHCD were truly impossible to solve).
Divine Will was the one for which I was furthest from the solution. The last scenario didn't seem to me to be the most complicated but certain relationships between characters were discovered late and I had of course not understood absolutely everything (which did not prevent me from getting good scores: 100, 60, 60 and 90 on a first try).
f I write "first try", it's because Chronicles of Crime has a slight replayability: you have the possibility of solving the puzzle again as the solution won't be given to you straight away. If you have a low score, you can restart the case and try to see things more clearly on another try (which improves your score: 100 and 90 on scenarios 2 and 3 😉).

Unfortunately, there are a few points that darken this almost idyllic picture. And the main concern is about the application.
Note that I understand being quite harsh regarding the app but I really expected a lot from it, especially since I had been relatively unimpressed by the first version of Chronicles of Crime and that I expected real improvements.
Note that these regards are about the french version. Maybe the english version had more playtesters.
The french app is bugged a lot as if the testing phase had not been completed. 1400 seemed to me mostly unread. A lot of XML slag appear and give <char-14> type codes instead of having the little character icon. There were some grammar mistakes too. In short, lots of little messes that often drew me out of the gaming experience. In this type of product, that's the most important thing not to do. But, again, maybe it's just me being too harsh.
I think that despite the time elapsed between the first Chronicles of Crime game and this release, the app hasn't changed much. Few dialogue changes when you talk to characters (although some disappear if you annoy them too much) and the experience is not that different from a Sherlock Holmes Consulting Detective where the text of the characters does not vary from one moment of the game to the other. However, this last comment is actually excessive. Fortunately, the app is much more flexible than text on paper and 1400 is a step in the right direction compared to previous incarnations of the series.
With four scenarios for less than $30, 1400 is a game worth your money, especially compared to other investigation games. Of course the hired artist will work once for 4 stories, where an Unlock (for instance) must call an artist for each of his stories, but this point doesn't shock me, it's a bit like meeting actors who play different roles. Maybe some will look for links between two characters with the same face but this would be a source of big errors as the investigations are being perfectly apart from each other.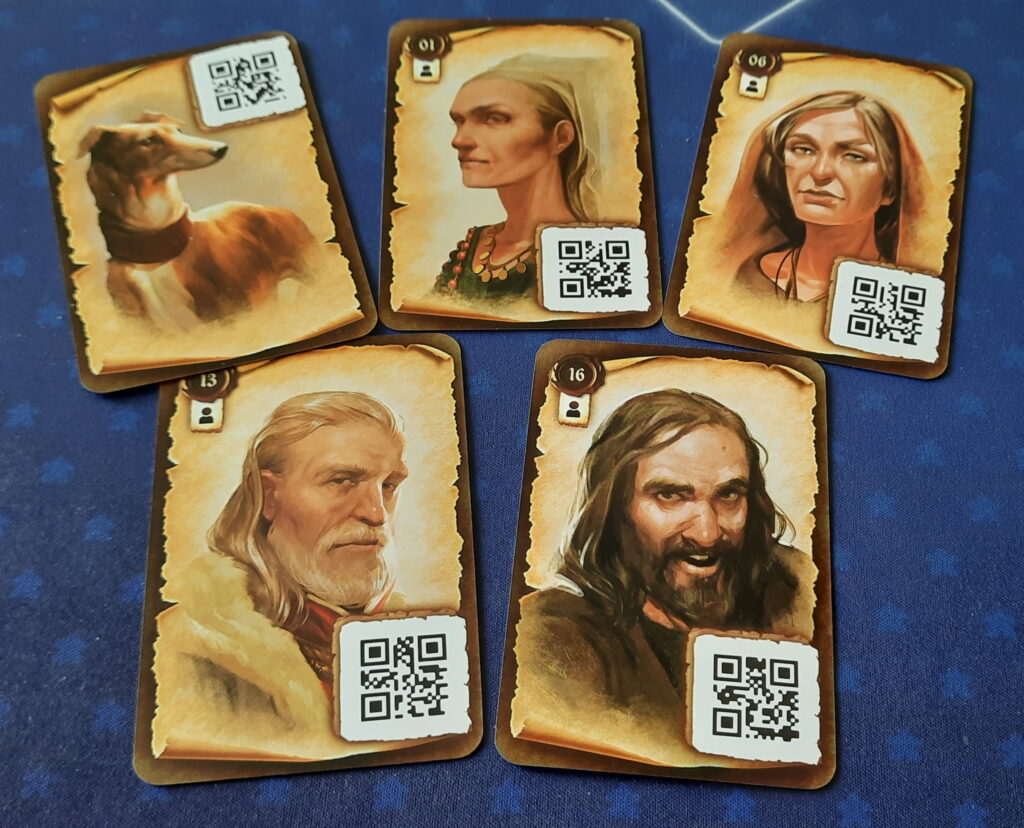 In short, Chronicles of Crime 1400 does the job it is asked to do perfectly with this "wow" effect, thanks to virtual reality. Apparently the bugs go away as they are reported by user feedback, so they should be fixed over time.

Having said that, I would like the game to play out a little more differently on each case. I have often had the impression of knowing what to do and when to do it or completely not seeing at all which way to go, which is often what happens in this kind of game. Without any available clue, the cases may seem difficult but also replayable. It's up to you to see if classicism doesn't scare you. The stories have a good atmosphere and the graphic universe is really good. All that's missing is a little inventiveness in interacting with the universe.